Description
Deliverance Board Game Kickstarter Deluxe Edition. Comes with all the gameplay content, angel miniatures, and all unlocked Kickstarter Campaign "stretch goals" (including limited edition Michael & Sardius alternate art character cards)!
Deliverance Premium Upgrades sold separately (Neoprene Playmat, Acrylic Standees, and Metal Coins).


Deliverance scores 8.7 on BoardGameGeek!




About Deliverance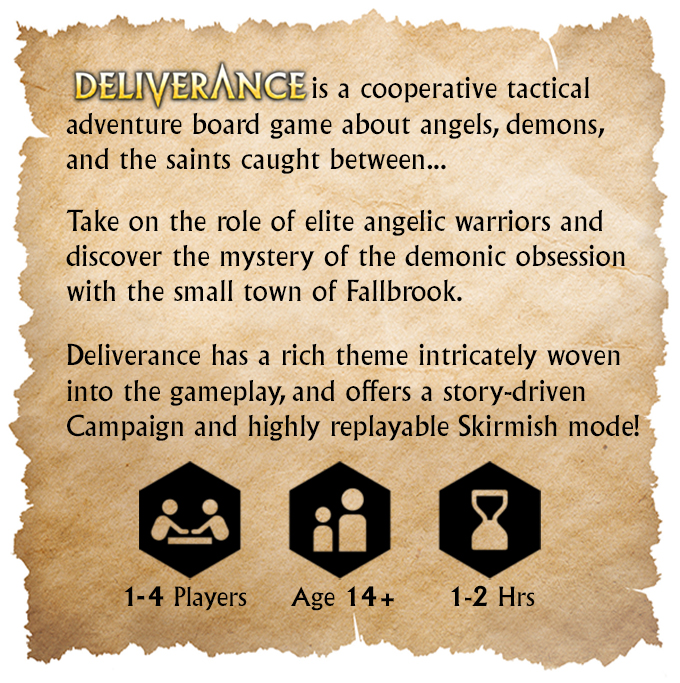 Deliverance is a cooperative tactical adventure board game for 1-4 players that plays in 1-2 hrs. It has an epic Christian Fantasy theme of angels vs demons with saints caught in between.
"Since the victory on the Cross, you and your fellow elite angelic warriors have hunted the Fallen Princes. Once your faithful brethren, they now lead Satan's forces of Darkness in a bitter war against the humans, bent on corrupting every last soul. In a bid to strike a mighty blow against their reign of chaos, you have planned a daring mission into one of their great Strongholds – The seemingly quiet human city of Fallbrook, California.
Armed with your weapons, courage, and your God-given angelic powers, you and your faithful allies must overcome legions of demons to slay their leader. But be watchful, for the evils of the mortal world seem to be spreading into the spiritual realm…"
Deliverance Features
✅ Skirmish Mode for 1-4 players (perfect for game night)
✅ A 12+ Mission Story-Driven Campaign
✅ Multiple difficulty levels, ranging from easy to near-impossible
✅ 450+ unique cards
✅ 150+ unique Bible verses used as flavor text
✅ 100+ unique art illustrations
✅ 9 Playable Angels and a "True Solo" Intercessor for solo play
✅ An innovative Darkness and Prayer system — you must use more than your sword to survive!
✅ A unique theme integrated seamlessly across all elements of the game
✅ Hundreds of hours of gameplay, guaranteed to feel fresh through our "intelligent enemy" AI system!
How To Play Deliverance
Official "How To Play" Video by Ant Lab Games:
Watch a Full Playthrough by Colin of The One Stop Co-Op Shop:
Have A Question? Ask Our Community!
If you have a question about the game before you buy, get your burning questions answered in our Discord Server or Facebook Group!
To God be the glory! 1 Thessalonians 4:16